We often associate winter with plants dying back, leaves falling from the trees and nature lying dormant until spring. But here at Trebah we're lucky enough to have plants that flower or provide interest all year round, thanks to both our location providing us with a sub-tropical climate and careful, expert plant choices by Trebah's gardeners over the years.
So we wanted to share our top 10 must-see plants, areas and features of the garden that are looking amazing this winter...
10. Fascinating bamboos
Bamboos are great for providing year round interest, especially in winter months when they are easier to see through the garden, as other trees have lost their leaves.
One of the most striking is Phyllostachys vivax f. aureocaulis (pictured below) with golden-yellow canes, found next to the Stumpery on Petry's Path, or head to the Bamboozle to find the black canes of Phyllostachys nigra, the multi-coloured canes of Himalayacalamus falconeri 'Damarapa' or the blue canes of Fargesia papyrifera (pictured below).
We have nearly 50 varieties of bamboos planted all over the garden, with the majority found in or around the maze of paths we call the Bamboozle.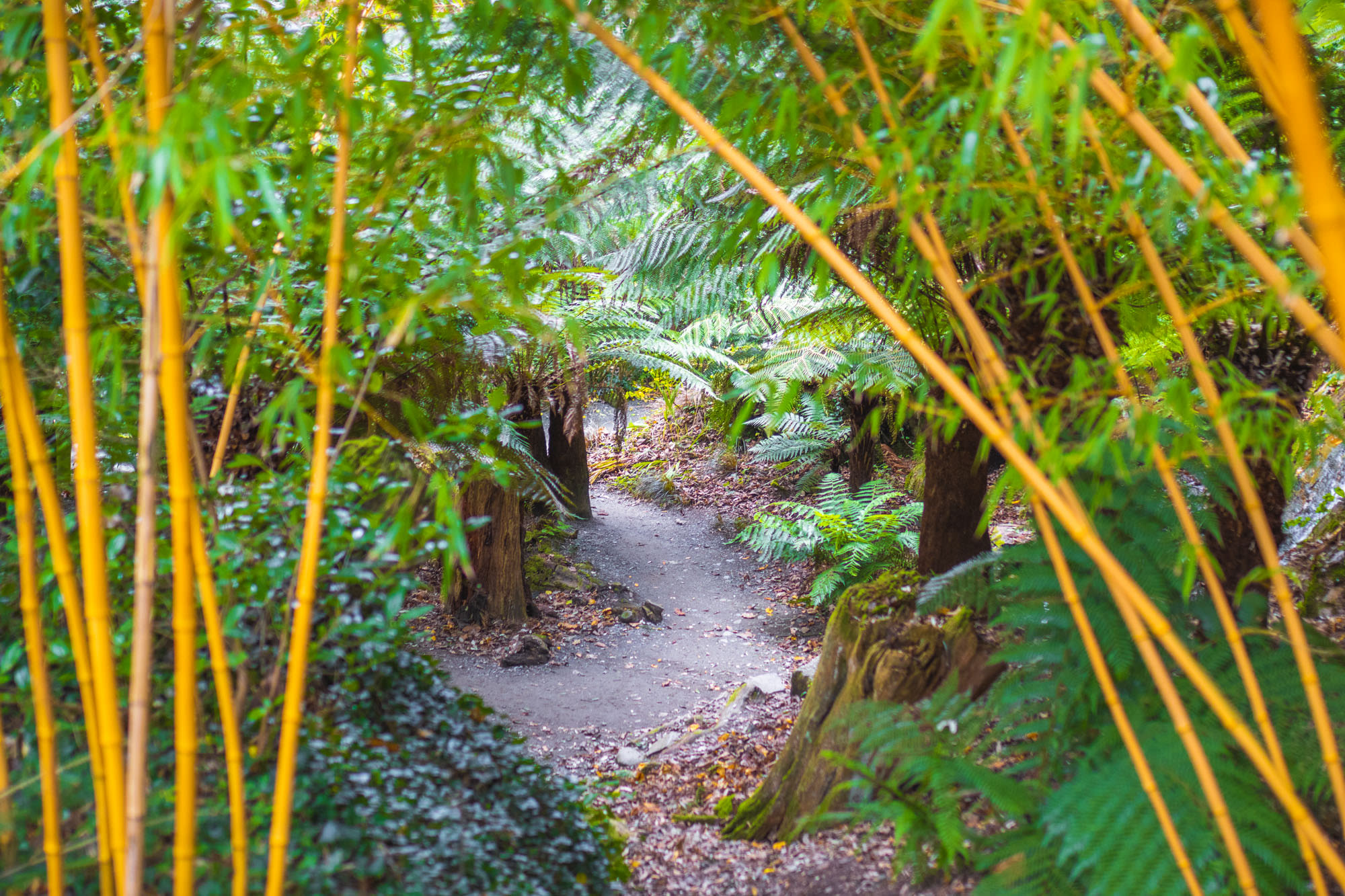 Phyllostachys vivax f. aureocaulis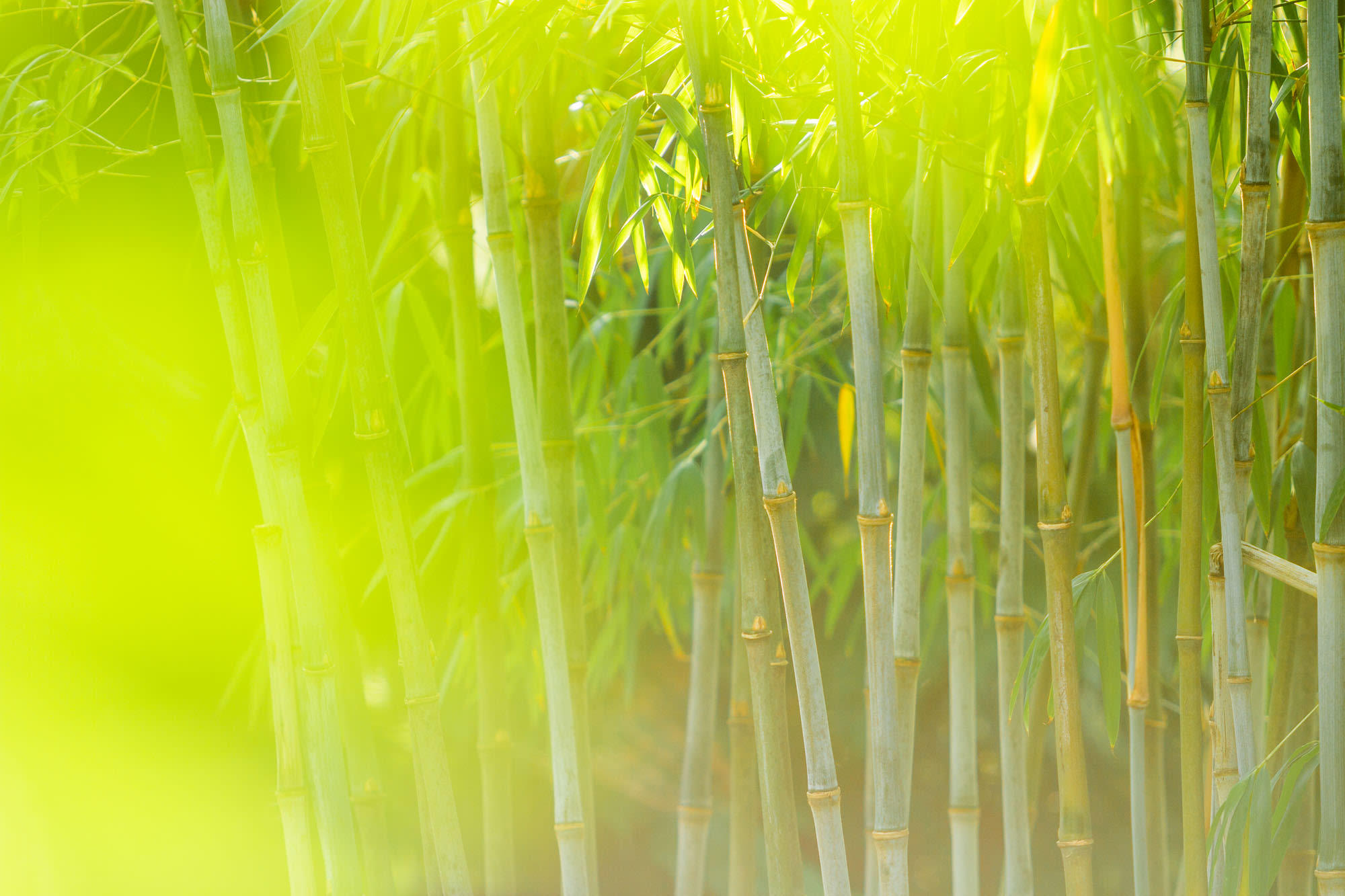 9. Berberis darwinii
Darwin's Barberry is a great plant for rich-orange winter colour here at Trebah.
It grows en masse around the Chilean Coomb (Chile being one of its countries of origin, along with Argentina) and, as its name suggests, was discovered by Darwin on his voyage on the Beagle.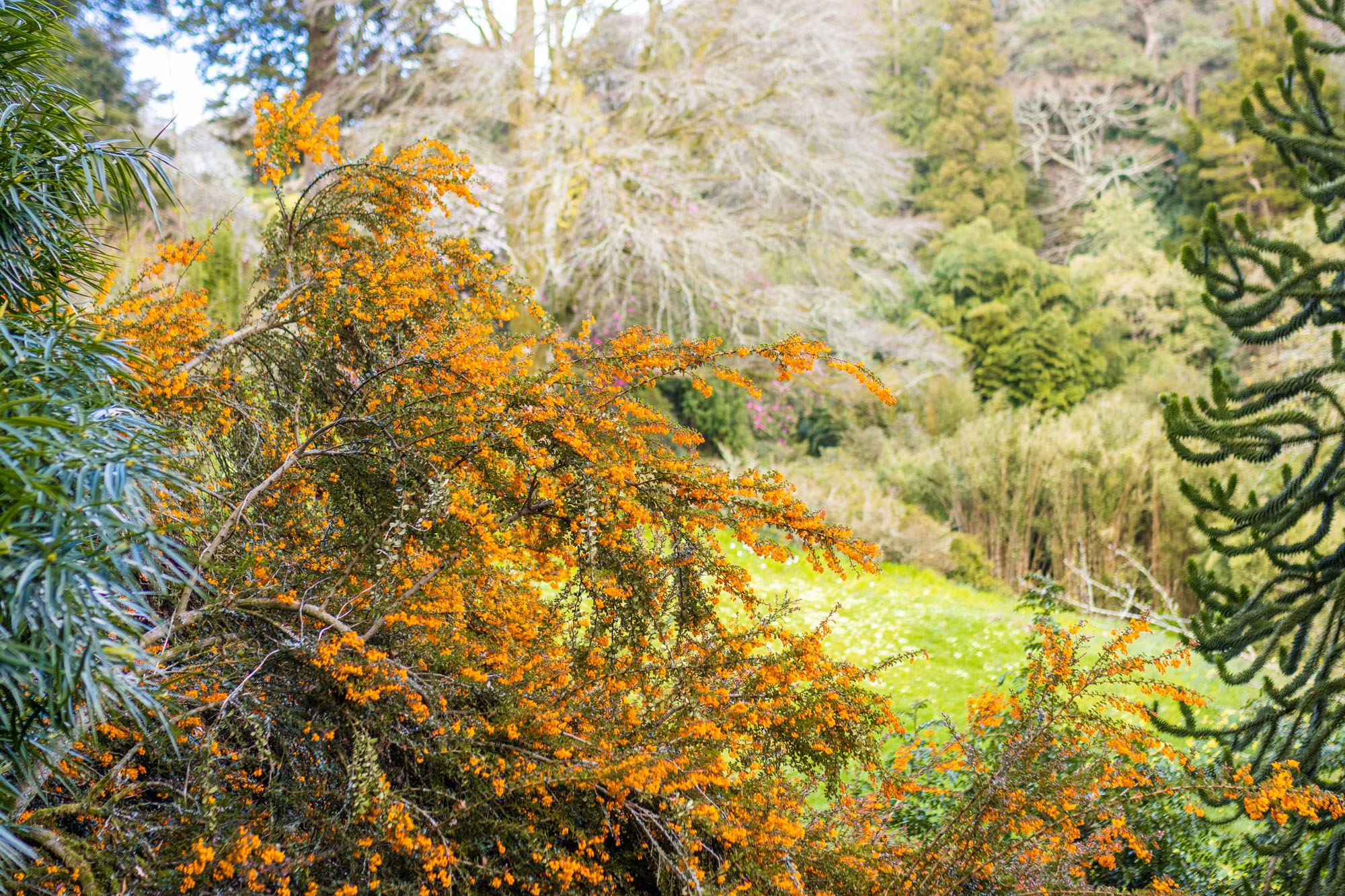 8. Chilean murtle
The Chilean Murtle (Luma apiculata) grows not just in the Chilean Coomb but throughout the garden and is very noticeable with its cinnamon coloured bark, adding a dash of colour in the bare winter months.
7. Mahonia
Despite its spikey exterior, Mahonia is a winter gem. At this time of year it blooms with clusters of beautiful, fragrant bright-yellow flowers.
Mahonia x media 'Charity' (pictured) is worth seeking out in the garden and can be found on both sides of the path on Fox Path, as you head down towards Beach Path.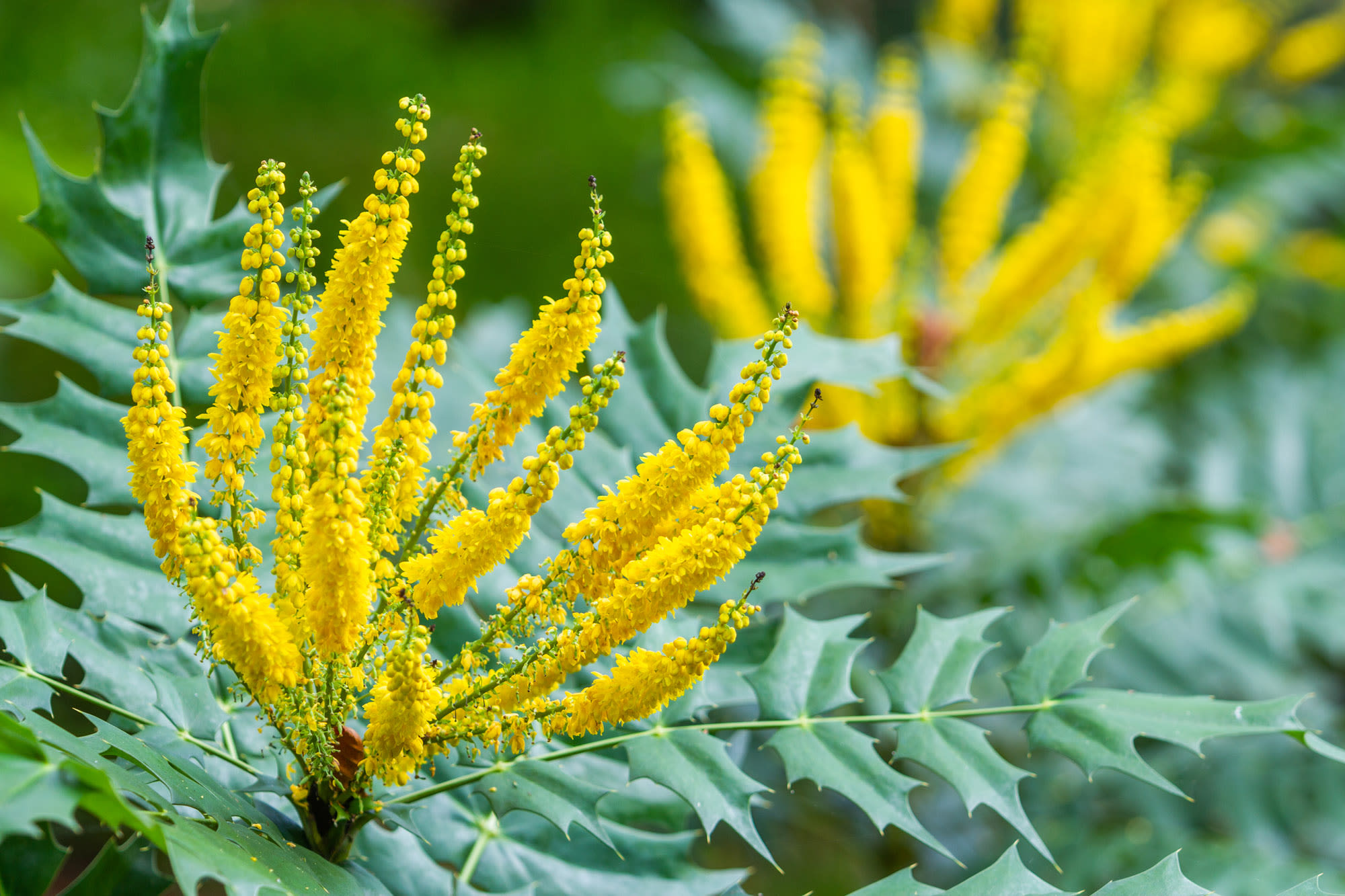 Mahonia x media 'Charity'
6. Grevillea
There are many varieties of Grevilleas planted throughout Trebah, with lots more planted recently around the new Beach access.
Their spidery flowers are quite eye catching and the plants is hardy enough to last all the way through winter.
They originate in Australia and are wonderful for providing winter colour, but also flower through other times of the year.
5. Dichroa febrifuga
Dichroa is a genus of 12 species of flowering plants in the family Hydrangeaceae, native to eastern and south-eastern Asia.
A large specimen of Dichroa febrifuga grows by the entrance to the Water Garden and on Petry's Path and, although it bears similarities to our Hydrangeas, it is in fact very different.
From the foothills of the Himalayas, its flowers are dark blue and are followed by metallic dark blue fruits that far exceed the flowers in beauty. Its root have been used as a treatment for malaria in China for at least 2000 years.
4. Azolla Pool
Situated in the heart of the garden, Azolla Pool is a delight that you must find your way to when visiting Trebah and gets its name from Azolla, a genus of aquatic ferns.
It is a very peaceful area, complete with a bench looking out over the water. The area is surrounded by towering bamboos and tree ferns, providing a sense on enclosure within the larger garden.
In addition, with the Gunnera now cut back for winter a new view through from Davidia Walk into Azolla Pool is now visible.
3. Interesting Tree Bark
The Acer Plantation has been showing off since early autumn with a wide range of red, orange and yellow tints, but now the leaves have fallen a new and equally colourful side to the area is revealed; fascinating bark.
Whilst there are many of interest, two to look out for are:
Acer palmatum 'Sango-kaku', the coral-bark maple, which, as its name suggests, has bright coral-red branches
Acer griseum, the paperbark maple, which exhibits attractive peeling, papery chestnut-brown bark
2. Camellias
Although seeing flowers bloom in a garden makes you think of spring, our Camellias start in early winter - with the sasanqua varieties, followed by the other 300 varieties we have planted at Trebah, in spring.
However with the mild weather we have had through December this year, some of the camellias you'd expect to flower in spring are already in bloom in early January!
So on your next visit, keep your eyes peeled as there'll likely be some specks of spring colour around!
1. Hydrangeas
Yes, that's correct!
The hydrangeas that Trebah is so famous for are still going strong. As you'd expect, many have turned brown but that turns the landscape around Mallard Pond into a sea of autumnal hues. But there are many hydrangeas around the garden which still have colourful petals on their flowerheads and it's a delight to be able to walk the garden and enjoy the blues, pinks and purples before they too turn brown.
The gardeners will cut the hydrangeas back later in January, so be sure to enjoy them while you still can!