Behind the scenes with Nursery Manager Debbie Dickey as she prepares for the 2023 season
The latter parts of winter are always a busy but exciting time for Trebah's Plant Centre team, as they are putting the finishing touches to preparations for the reopening of the large plant area and Garden Shop ready for the year ahead.
But as the plants hit the shelves, a lot of work has gone on behind the scenes to get the Plant Centre full to the brim of interesting and unusual horticultural gems, as Nursery Manager Debbie Dickey explains:
"Last year, 67% of the plants sold through the Plant Centre were grown in-house (that's almost 10,000!) including an increasing number which were propagated from the garden itself either from seeds and cuttings or by lifting and division.
On that basis, we will finally have some (young/small) highly scented and unusual Rhododendron varieties that we have propagated from the garden available later in the spring, as well as some of the rarely available and much sought-after fabulously fragrant Myrtus lechleriana which is blooming now throughout the garden (limited quantities available, so first come first served!).
Also, for spring, we have lots of our Trebah-grown Echium, Geranium maderense, Dicksonia, Aeonium, Echeveria, Lampranthus and Bulbines ready to go, alongside many other succulents and more unusual plants such as Wachendorfia, Prostanthera, and Isoplexis which were propagated directly from the garden too.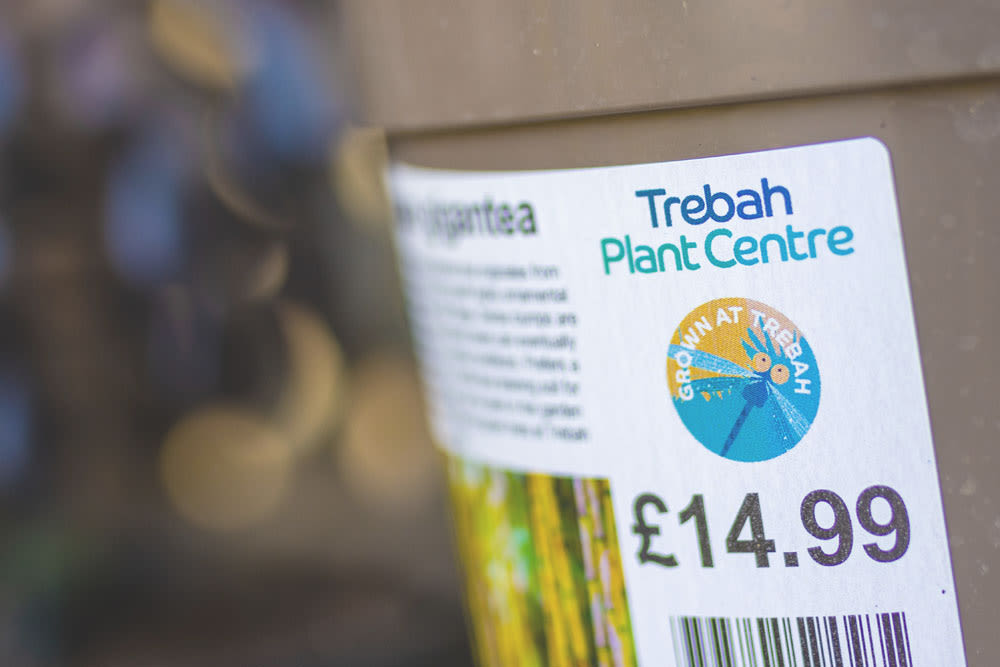 Keep an eye out for the label!
The majority of the other plants we produce in-house that are not propagated directly from the garden are bought in and grown on from young plug-plants or liners as locally as possible - either from just across the border in Plymouth or from slightly further afield at Banbury, but all are from the UK.
After trialling many different alternative peat-reduced and peat-free composts these last few years, we finally seem to have found a good 'recipe' for growing the core of our plants successfully without using peat at all and so we are now moving forwards with 100% peat-free growing on new stock.
We are now also growing the vast majority of our Trebah-grown plants in recyclable taupe-coloured pots and for our younger liner plants, where the taupe pot is unavailable, we are using pots which are manufactured from recycled plastics that have been collected from industrial waste.
In line with caring for our environment, we have also been trialling and using some new natural garlic and biorational pest management products to minimise the use of harsh chemicals in our growing areas. This has been largely successful in keeping away the bugs (and also the vampires!) and there are also more new and improved professional versions of these being introduced to the market all the time, making our growing much kinder to our environment, to ourselves, and to the wonderful wildlife that we share the space with in our lovely nursery growing area."
Trebah Nursery also has additional task of supporting the garden team with the new Court Garden and will be supplying a range of quality plants and seasonal replacements going forward. The Court Garden is due to open in May 2023.