Our Tramper Vehicles
Due to the topography of the Garden there are steep sections, steps to some paths and water drainage bumps, making wheelchair use difficult.
We recommend that wheelchair users, those who are less steady on their feet, or those who have difficult climbing hills, book one of our motorised "Tramper" in advance.
We have 2 Trampers available for morning (10am-1pm) and afternoon (1:30pm-4:30pm) sessions in the garden. The Trampers' high ground clearance, big,all-terrain wheels and stable build make them perfect for viewing the garden.
Full training, a practice drive and wheel-friendly map guidance is given to those wishing to use our Tramper vehicles. Approximately 80% of the garden and beach can be accessed or viewed avoiding steps.
Unfortunately the Trampers are not able to go into the Visitor Centre, Cafe and Shops as they are large vehicles and the space is often very busy. Should you require any assistance, a member of staff will be happy to help, and we have a manual wheelchair available for use in this area.
Please note when accessing the Beach area, do not drive on the shingle or sand - keep to the large concrete area.
Domestic Mobility Scooters
For reference, scooters such as the one pictured are not recommended due to their low ground clearance, small wheels and potential lack of power for the hills.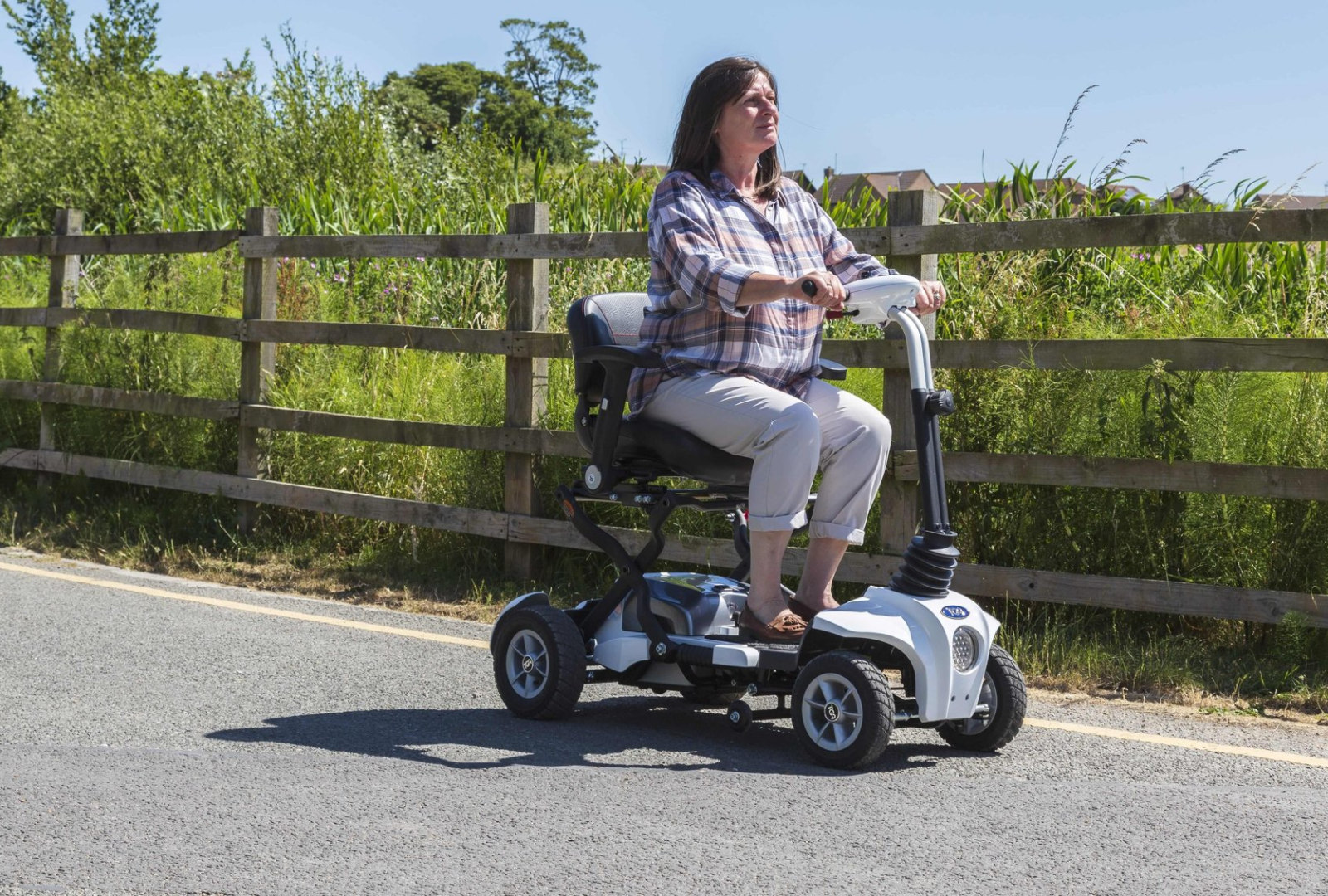 Bringing Your Own Vehicle
If you intend to use your own vehicle, please consider if it is suitable for steep hill use and able to operate on uneven surfaces.
Please see the notes below to inform your decision:
• Your vehicle needs an approximate clearance of at least 125 mm or 5 inches to get over the gravel bumps
• You will need a fully charged battery
• All paths are compacted gravel with loose chippings, and some have a new resin surface - please note that some areas are steep
• All vehicles MUST stay on the designated routes given to you by our entrance staff
• Please note – DO NOT drive on the shingle or sand whilst accessing the beach area. Please keep to the large concrete area
• The accessible route is NOT on the Children's Trail routes
• Footpaths vary in width, but most are about 1m (3 feet) wide
• There are many benches throughout the garden
• Please be aware, when travelling up hills weight will transfer to the back of the vehicle, so please avoid heavy items being stored on the back i.e. bags