Dandy Lion - a magical, musical fable performed across the garden.
Dandy Lion is a brand-new, intimate storytelling experience for children and families this summer.
Follow Tevi, a uniquely special lion cub, in this heart-warming, coming-of-age story as he discovers what it is to be the leader of a pride.
To find out more and book tickets, please CLICK HERE
Scroll down to explore our promenade performance from the last few years...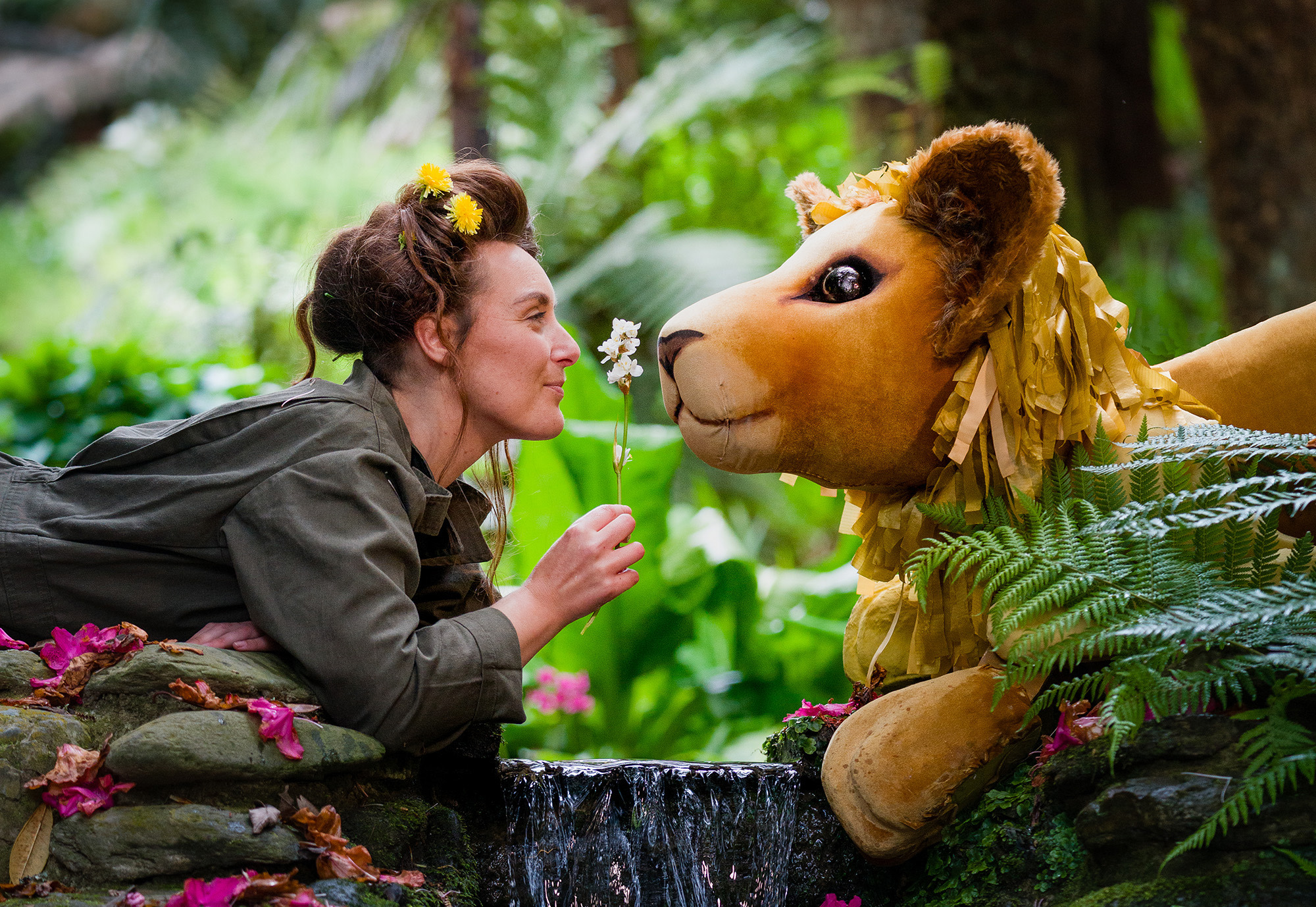 Operation Neptune, 2019
The highlight of the 2019 Amphitheatre season was doubtedly Operation Neptune.
Produced by Trebah, directed by Guy Watson and written by Charlotte O'Leary, the 5 nights of performances quickly sold out. Created to coincide with the 75th anniversary of the D-Day landings, Operation Neptune told the story of a young, handsome G.I. who was stationed at Mawnan Smith in the run up to embarking from Trebah Beach.
Based on the true stories from the thousands of US troops who left from Polgwidden Cove and the local residents who witnessed it, we followed US 29th Infantry Division Technical Sgt Joe Miller in life - and love - on his poignant journey through Cornwall to the Nazi-occupied beaches of Normandy, France.
Scrawww, 2018
Based on a 12th century Persian poem called 'The Conference of the Birds', Scrawww told the story of the world's birds deciding on their new leader.
The hoopoe, the wisest of all the birds, suggests that the other birds of the world should find the legendary Simorgh bird. The hoopoe leads the birds, each of which represents a human fault.
Every audience member received silent disco-style wireless headphones and were led through the garden listening to music written especially for the performance, before they arrived for the finale on the beach.
If You Go Down To The Woods Today, 2017
A spectacular voyage of breathtaking vertical dance and aerial performance through the garden.
Joined by Yskynna for our 2017 promenade performance, the show gave viewers a visual feast amongst the towering canopies of Trebah's trees, accompanied by the music of Emma Mansfield.
Based on the traditional childhood fairytale, but with a dark twist, it was both a memorable and modern retelling. Blending live music, vocal tones, spoken word and poetry over percussion, there was even a fire breathing dragon thrown in for good measure!
Neptunalia, 2016
The Neptunalia promenade performance brought colour, story and dance to the garden.
Described by Lee Trewhela as "one of the most mesmerising dance pieces I've seen in Cornwall" it was a great success and enjoyed by many.
On a storm-filled night when clouds were the colour of bad tempers, the briny sea separated Neptune from his son Neleus. But it's been years… and today something has washed up on the beach that is neither fish nor bird nor boat.
It's the morning of The Neptunalia Ball, but what or who has arrived?